Cuba's dissident democrats stir as the Castros lie low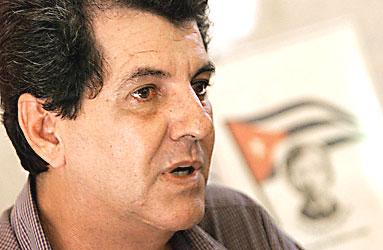 A wiry figure with dark, defiant eyes,Oswaldo Paya is not easily intimidated. His house is under constant surveillance and he has received numerous death threats. Most of his followers are in jail.

Cuba's leading dissident will not be deterred, however, from a campaign to promote democracy in one of the world's last communist outposts. "It is time for change," he said last week as the country struggled to adjust to its first new leadership in almost half a century. "The oppression and lies must end."

Behind its sunny, palm-fringed facade as a trendy tourist destination, Cuba was racked by doubt and fear as it prepared to mark the 80th birthday today of Fidel Castro, its leader, not knowing if he was dead or alive.

The Comandante, as he is known, relinquished power two weeks ago to Raul, his younger brother, while he convalesced from surgery after intestinal bleeding. Neither of them has appeared in public since.

Speculation has grown that Fidel was on the verge of death — though a local paper reported that he was already walking, talking and even doing some work — and that Raul, the 75-year-old army chief, was finding it difficult to convince some of his more reform-minded generals that "Castroism" could outlive Castro. Last night President Hugo Chavez of Venezuela was flying to Havana with a birthday cake for his favourite dictator.

Castro's absence has stirred hopes among Cuba's small but hardy band of dissidents, although none was expecting any sudden end to the repression that characterises the dictatorship he installed after seizing power from an American-backed strongman in 1959.

Paya, 54, has irked the government by exposing as a lie the official rhetoric about all Cubans being equal. He and his wife and three children have had to endure noisy demonstrations outside their front door denouncing them as "puppets of Yankee imperialism". Paya has been threatened with death on numerous occasions in menacing telephone calls and messages. "Essentially, they've told me that I'll be killed before I get to see any changes in Cuba," he said.

None of it has stopped him gathering signatures for petitions to overturn communism. His Christian Liberation Movement is a rallying point for growing disgruntlement over Cuba's "apartheid" system.

Through access to the "convertible peso", as the tourist currency is known, the revolutionary elite can eat in the best restaurants and visit hotels while the proletariat is effectively banned from such places.

To qualify for a permit to stay in a hotel, ordinary Cubans must show a marriage certificate to prove they are on honeymoon. It is not uncommon for couples to marry — and divorce two weeks later — simply to be able to enjoy the rare treat of a few days in a "convertible peso" zone.

Members of the governing clan can also read what they want and access the internet. For the masses the only information available is the propaganda peddled in state-run newspapers and on the state-run television. They are denied even a glimpse of the foreign press, although Castro has sometimes quoted flattering commentaries from foreign left-wing papers in a bid to prove that things are not as bad as they seem.

As for travel overseas, only those with the right connections need apply for visas. Paya had to decline an invitation to a human rights conference in London in December after being refused authorisation to go.

"Most people live with big restrictions because of the regime," the telecommunications worker said in his sitting room, which is dominated by a large picture of Christ.

"There is a dominant caste, though, a sort of aristocracy that is rich while it tells poor people that we don't like capitalism. We've got to bring this to an end. It is a sham. It is a crushing lie."

Paya came to international prominence in 2002 when he delivered to parliament a petition with 25,000 signatures demanding democratic change. Under the Cuban constitution, citizens are entitled to propose amendments to the law if they present enough signatures; this cheeky use of the rule book infuriated Castro.

As did the European Union's award to Paya of the Andrei Sakharov prize for promoting human rights. This gave Paya entry into that exclusive club of Third World dissidents with international recognition. Without it he would almost certainly be languishing in prison, like most of his followers, who were rounded up in 2003 and sentenced to between six and 28 years in jail for "counter- revolutionary" activities.

"They took out our entire front line," said Paya, referring to the arrest of 75 supporters. "Fortunately, we now have a second line." As a European diplomat put it: "He is an exceedingly brave fellow."

In May, Paya unveiled a 170-page blueprint for a modified constitution. "We can keep the good things, such as free education and good healthcare, but that is meaningless unless we also have a guarantee of basic rights and democratic freedoms," he said.

Needless to say, the government ignored it. One day, Paya hopes, it will catch on.
Matthew Campbell, Havana
(The Sunday Times August 13, 2006)
Ler:MCL